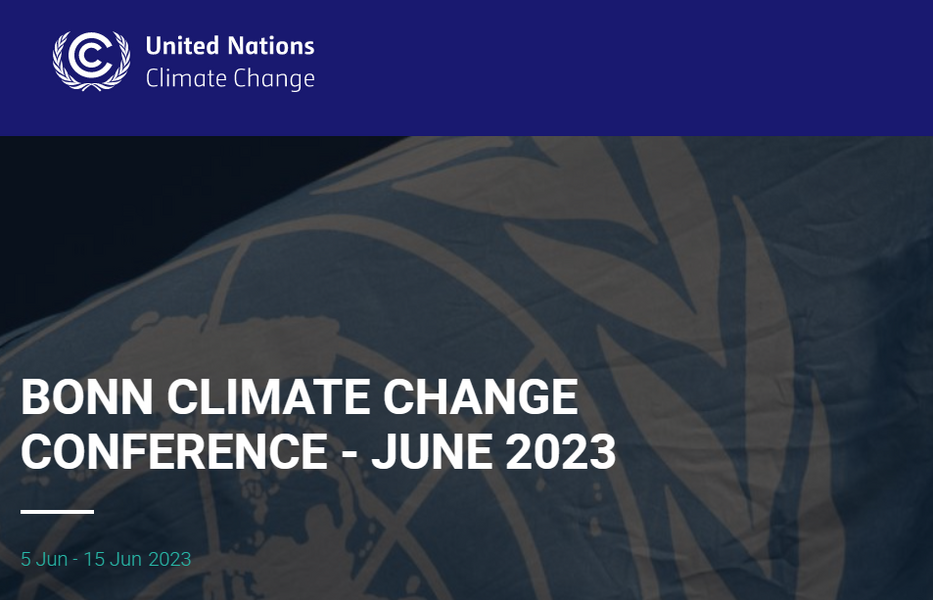 Disaster Displacement at the 2023 Bonn Climate Change Conference
Will you be attending the 2023 Bonn Climate Change Conference (SB58) scheduled from 5-15 June 2023 in Bonn, Germany? Are you looking to learn more about how displacement and human mobility relating to disasters and the adverse impacts of climate change are being addressed ? Then, look no further – and do come back, since this page will be updated as new information arrives!
The 2023 Bonn UN Climate Change Conference, SB 58, launches in just a few days. But what will be discussed at SB 58, specifically?
The conference is designed to prepare decisions for adoption at COP 28, the major annual UN Climate Change Conference, slated for December in the United Arab Emirates. Delegates and other participants will take discussions forward on topics such as the global stocktake, the global goal on adaptation, the just transition to sustainable societies, the mitigation work programme and loss and damage, among others. This conference is organized by the United Nations Framework Convention on Climate Change (UNFCCC).
Below you can find a non-exhaustive list of relevant events discussing disaster displacement and human mobility that are scheduled to take place during SB58. The table will be regularly updated as further information becomes available. If you have any events to add to this list or relevant information about the ones already there, please email info@disasterdisplacement.org.
Date & Time
Title
Organizer(s)
Location and details
5 June 2023, 10:15am - 11:30am
Deliver Climate Action: Support a Robust Global Stocktake from Human Rights and Ethical Perspectives
The Lutheran World Federation (LWF)
Brahma Kumaris

World Spiritual University (BKWSU)

Soka Gakkai International Office for UN Affairs

World Council of Churches (WCC)

Berlin

Deliver climate action:Support a robust Global Stocktake from human rights and ethical perspectives.
In the absence of rapid, substantial, and sustained emissions reductions, loss, damage and climate-induced displacement will rapidly increase, particularly in developing countries. A robust Global Stock Take that addresses this is crucial for achieving Paris Agreement goals.

Speakers: Ian Fry |UN Special Rapporteur on Human Rights & Climate Change Michelle Schwarz| LWF Harjeet Singh | CAN-International Woman Indigenous Peoples' voice Moderator: Valeriane Bernard | Brahma Kumaris
5 June 2023, 1:15pm - 2:30pm
Loss and Damage in Focus: Ten Years of the Warsaw International Mechanism Launch Event
Secretariat of the United Nations Framework Convention on Climate Change (UNFCCC)
Berlin

The event focuses on showcasing progress in efforts on loss and damage (L&D) and sharing good practices and challenges to allow personalizing of the experience of those impacted, advance action, and secure support. It also commemorates the 10-year milestone of the L&D agenda under the UNFCCC process

Speakers: WIM ExCom, expert groups, country representatives
6 June 2023, 2:45pm - 4pm
Taking stock of the protection gap in climate vulnerable countries
Munich Climate Insurance Initiative (MCII)

Institute for Climate and Sustainable Cities (ICSC) (ICSC)
Berlin

The event will cover gaps, views, and analyses that can guide discussions on initiatives like the Global Stocktake, funding arrangements for loss and damage, and/or the Global Shield against Climate Risks.

Speakers: Experts from ICSC and MCII Country representatives
6 June 2023, 4:45pm - 6pm
Strengthening climate finance for transformational adaptation and loss and damage action
CARE International (CI)

Climate Action Network - Europe (CAN - Europe)

German Institute for Development Evaluation (DEval)

Kaminzimmer

The event will present evidence and policy recommendations on climate finance projections (Art. 9.5 reports), access and effectiveness for adaptation and L&D and innovative options for scaling up bi- and multilateral cooperation to the needs of vulnerable countries.

Speakers: Experts from CARE, CAN Europe, German Institute for Development Evaluation, GCF, European Bank for Reconstruction and Development, Africa Research and Impact Network, German Institute of Development and Sustainability Representatives from governments incl. from global South
7-14 June 2023, daily 2pm-8pm
Photography Exhibition - On the frontlines: Climate-induced loss and damage in Asia and Africa
Slycan Trust
The Stage Gallery, Thomas Mann Strasse 41, Bonn
7 June 2023, 10:15am-11:30am
Reaching the most vulnerable: Climate action in fragile and conflict affected contexts
Office of the United Nations High Commissioner for Refugees (UNHCR)

International Center for Agricultural Research in the Dry Areas (ICARDA)

International Committee of the Red Cross (ICRC)

Berlin

With Relief, Recovery and Peace an emerging theme for COP28, this event considers how climate action can reach vulnerable communities facing multiple sources of risk - advancing partnerships and approaches to build adaptative capacity and address loss and damage in fragile/conflict-affected contexts

Speakers: UAE Representative Carina Bachofen, Head of Policy, Red Cross Red Crescent Climate Centre Rose Kobusinge, Children and youth constituency of the UNFCCC (YOUNGO) and TFD Member Community Representative, Baringo County Kenya Michelle Yonetani, Senior Policy Officer, Climate Action, UNHCR
7 June 2023, 11:45-1pm
Loss & Damage from Climate Change: Action to avert, minimize and address loss and damage from a humanitarian perspective
World Food Programme (WFP)

Médecins Sans Frontières International (MSF)

This event will highlight the roles and limits of humanitarian action to avert, minimize and address loss and damage, as well as discuss key principles that should be applied for solutions and funding to respond to loss and damage to ensure that communities are supported to protect themselves against climate risks.

Speakers: Representatives from WFP, MSF, IFRC and Mercy Corps, supported by members of the Interagency-Standing Committee (IASC) Climate Sub-Group.
7 June 2023, 4:45-6pm
Towards People-Centred Adaptation – Enabling Choice, Resilience, and Mobility
International Organization for Migration (IOM)

ACT Alliance - Action by Churches Together (ACT Alliance)

Bread for the World (BfdW)

DanChurchAid (DCA and FKN)

Kaminzimmer

The event will provide a platform for diverse stakeholders to discuss how data and policy enable choice, resilience, and mobility and calls upon Parties to close the protection gap for people on the move due to the impacts of climate change and variability. This side event will be co-organized by the IOM, Act Alliance, BfW, and the DCA. be 75

Speakers: speakers from the Executive Committee of the Warsaw International Mechanism for Loss and Damage, Adaptation Committee, the Government of Moldova, IOM, Bread for the World, and Act Alliance.
8 June 2023, 10:15am-11:30am
Linking local to global: Intersectionality as a driver for an inclusive loss and damage fund
FEMNET
Berlin
8 June 2023, 10:15am-11:30am
Beyond models : how social impacts of climate change are shaped by perceptions
Université de Liège (ULg)

Adelphi Research (AR)

Potsdam Institute for Climate Impact Research (PIK)

University of Vienna

Kaminzimmer

It is often assumed that migration induced by climate change will be determined by the nature and extents of climate impacts. Yet research shows that migration decisions are shaped by the perceptions of climate change by local populations. This side-event will show the implications for adaptation.

Speakers: Francois Gemenne, University of Liege Patrick Sakdapolrak, University of Vienna Alice Baillat, IDMC Tatiana Castillo, University of Liege
8 June 2023, 2:45pm-4pm
Linking local to global: Intersectionality as a driver for an inclusive loss and damage fund
African Women's Development and Communication Network - FEMNET (FEMNET)

International Food Policy Research Institute (IFPRI)

Berlin

Loss & damage response strategies are blind to the realities of urban poor, indigenous people, LGBTQIA+, young women who suffer the brunt of multiple intersecting crises. Using examples, we will foreground the need for an intersectional loss & damage Fund.

Speakers: Anne Songole,FEMNET Faith Lumonya, Akina Mama wa Afrika Beth Chitekwe Biti, Slum Dweller International Toyin Chukwudozie, Education as a Vaccine Mela Chiponda, FEMNET Hassiba Belghith, Tunisia Youth Impact
9 June, 11:45am-1pm
Loss & Damage and Adaptation funding: Reaching people on the move
Arab Network for Environment and Development (RAED)

An Organization for Socio-Economic Development (AOSED)

League of Arab States (LAS)

Norwegian Refugee Council (NRC)

Kaminzimmer

Climate-related human mobility is increasing in the Arab region and other parts of the world. What are regional challenges and efforts to enhance community resilience and adaptive capacities? Discussion on ensuring climate finance reaches people on the move will contribute to the Global Stocktake.

Speakers: Amb. Shahira Wahby, LAS Delegate from Bangladesh or Kenya (TBC) Dr. Emad Adly, RAED General Coordinator Ms. Samah Hadid, NRC Mr. Atle Solberg, PDD Ms Rania Hadid, UNDRR (tbc) Mr Shamim Arfeen, AOSED Dr Mustafa Saroar, Khulna Engineering University Ms Rose KOBUSINGE, YOUNGO
10 June 2023, 4:15pm-5:30pm
Implementing Climate Justice: Solidarity with Vulnerable Countries on the Road to COP28
Manila Observatory
Bonn
10 June 1pm-2pm
TFD meeting
TBD
10 June 2023, 10:15am-11:30am
Indigenous Peoples in Loss and Damage: Accounting Non-Economic and Cultural Losses in Climate Change
Tebtebba Foundation

Unitarian Universalist Association (UUA)

Berlin

Indigenous Peoples in Loss and Damage: Accounting Non-Economic and Cultural Losses in Climate Change
indigenous peoples' perspectives on loss and damage including accounting/ funding for non economic and cultural losses

Speakers: Grace Balawag- moderator Nicky Batang-ay Kimaren Ole Riamit Eileen Mairena Pasang Dolma Sherpa Mrinal Kanti Tripura Tarcila Zea Rivera
12 June 2023, 10:15am-11:30am
Synergizing Climate Action and Disaster Risk Reduction: GST and Midterm Review of Sendai Framework
UNDRR
Bonn
13 June 2023, 10:15am-11:30am
No climate justice without civic space and human rights: zooming in on the UNFCCC process
Center for International Environmental Law (CIEL)

350.org (350.org)

Amnesty International (AI)

Bonn

A safe civic space is imperative to deliver ambitious and just climate action and to mobilize broad public support to meet climate goals. The UNFCCC process must put in place safeguards protecting participants in the process from threats and preventing undue influence by corporate lobbies.

Speakers: Human rights experts, relevant UN Agencies, civil society representatives.
14 June 2023, 1:15pm-2:30pm
Climate Finance for the Needs of Developing Countries
UNFCCC Secretariat
Berlin
14 June, 11:45am-1pm
Human rights, climate change and disaster induced migration & displacement: Regional Perspectives

Unitarian Universalist Service Committee (UUSC)

AFRIQUE ESPERANCE

Alianza Americas

Friendship

Berlin

Human rights implications of climate change induced migration and displacement perspectives along with civil society priorities will be provided for the Global Stocktake process for the Paris Agreement and negotiations on financing on climate adaptation and loss and damage.

Speakers: Civil society representatives from 5 regions, including Asia, Pacific, Africa, Latin America and Europe and a moderator
14 June, 11:45am-1pm
Ensuring the Loss and Damage Fund delivers for climate-impacted communities
ActionAid International Foundation

Christian Aid (CA)

Church of Sweden

Cooperation Internationale pour le Développement et la Solidarité (CIDSE)

Maryknoll Sisters of Saint Dominic Inc.

Bonn

The Transitional Committee of the L&D Fund has a vital role to agree issues of accessibility, governance, and funding sources and arrangements, to ensure that the Fund will benefit communities on the ground. Our recommendations build on learnings from the GCF and CSO analyses

Speakers: Teresa Anderson, Harjeet Singh, Mariana Paoli, Gunnel Axelsson Nycander, Teresa Anderson, + others
14 June 2023, 4:15pm-5:30pm
The Bridgetown Initiative – Fit to Finance Climate Justice?
Rosa-Luxemburg-Stiftung - Gesellschaftsanalye und Politische Bildung e.V. (RLS)

Asociación La Ruta del Clima

Equidad de Género Ciudadanía Trabajo y Familia (Equidad)

Bonn

The Bridgetown Initiative (BI) has gained significant traction since its proposal at COP27. It is however unclear how the BI will be in line with longstanding demands of climate justice movements. This event will therefore discuss what the BI includes, and perhaps more importantly, what it omits.

Speakers: Gaya Sriskanthan (Rosa-Luxemburg-Stiftung), Marisa Hutchinson (IWRAW Asia Pacific), Rep. Barbados Government (tbc), Tetet Lauron (Rosa-Luxemburg-Stiftung), Bodo Ellmers (Global Policy Forum), Emilia Reyes (Equidad de Género: Ciudadanía, Trabajo y Familia), Adrián Martínez Blanco (La Ruta Del Clima)