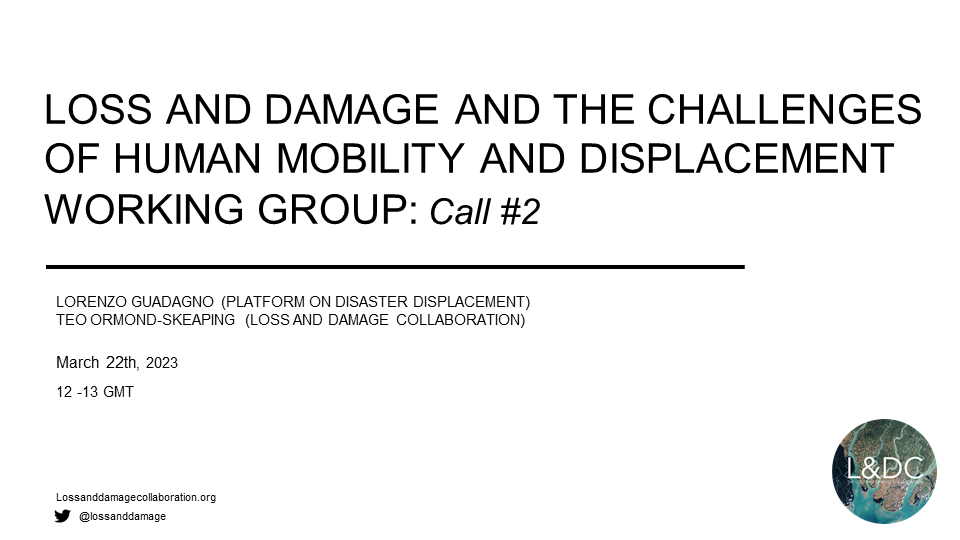 Working group on Loss & Damage and the challenges of mobility – 2nd call
On March 22, the Loss and Damage Collaboration and PDD jointly convened the 2nd call of the Loss and Damage and the Challenges of Human Mobility and Displacement Working Group. The Group attempts to bring together experts working on Loss and Damage and Human Mobility to share experiences and work towards common advocacy objectives.
The call was attended by more than 40 participants and focused on the following topics:
Overview of L&D and Displacement timelines and key work in processes in 2023;

Current engagements under the TFD Plan of Action;

Priority commitments for the group; 

Exchange of practices and experiences;

Development of common advocacy messages.
The slide show that was used to facilitate the webinar is available here, and includes overviews of the L&D and Human Mobility processes happening in 2023, with some coverage of additional processes (DRR, UNSG etc.).
Key materials that were shared during the call include:
Please contact us if you are interested to participate in the calls of the working group.
Download the PDD Advisory Committe Loss & Damage Report

Download the Synthesis Report (EN)
PDD's Advocacy work on Loss & Damage

Contact us to contribute to the development of our advocacy messages or to participate in the Working Group.